60s project edit
Talking about our generation
Update November 2018
The 'Sixties Night' event held on 13 October was enjoyed by 90 members. The highlights included a wonderful fashion show (all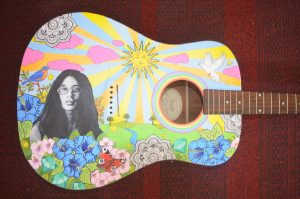 original garments), the music (some of us were dancing in the aisles) and the fantastic display of photographs, stories and other memorabilia. Samina Aslam took videos and photos, some of which accompany Denise's report for December Links and Third Age Matters.
Our links with the University of Sheffield are strong and some of us are due to meet up with history students in the near future.
So where do we go from here?  The project leaders met at the end of October to plan the way forward.  It was agreed that the work on some topics was complete – there is a lengthy report on Fashion which will shortly be on the website, to join the existing one on Politics.  A Fifties Childhood is also complete and Family Life just needs some more reminiscences and more work on the health aspect.   The steering group are going to meet monthly to examine each topic, and maybe others, to identify the gaps/overlaps.  We already know about some gaps – Theatre, Reading, Education beyond school (i.e. Teacher training, special education, university and polytechnic, vocational education), Sport and Recreation, Working Life.  We would gladly welcome help with these topics – please contact Denise West   denisewest3(AT)btinternet.com. or Shelagh Woolliscroft – shelagh(AT)woolliscroft.com
The unfinished topics will benefit from having more reminiscences. So we are arranging another open session on Thursday 28 February, at the Showroom, starting at 10.00.  We want you to come along and tell us your anecdotes, complete more questionnaires and help us to fill the gaps.
On Friday 11January, also at the Showroom, there is to be a seminar on National Service, at 10.00 for 10.30.    SU3A member Mike Cox will introduce it with a short talk on his experiences in Special Ops.    If you did national service please do come along and share your stories. Non-members will be welcome too.  No need to book.
People to contact re specific topics are:
Politics at home and abroad – Sue Beardon  sue.beardon(AT)gmail.com
Social attitudes– Amanda Davey, adaveysheffield(AT)yahoo.com
Food and Drink – Shelagh Woolliscroft – shelagh(AT)woolliscroft.com
Music – Brian Clark – blclark9(AT)hotmail.com
Technology and transport – John Dixon,  johndixon4491(AT)gmail.com
Anything else – contact Shelagh or Denise