Group News
Possible Venue
Education Hub, 694 Abbeydale Road, S7. £15:00 an hour. Contact Rachel Evans, 07426 490407. 2 classrooms, kitchen and toilet.


Mah Jong
If you are interested in learning to play a new game the Mah Jong group has vacancies. Mah Jong is an interesting game which is easy to learn and fun to play. We are a small friendly group who meet every Wednesday night from 6:30 to 8:30 at the Robin Hood Pub on Abbeydale Road. If you would like to come along and learn about the game please contact Barbara Lowe 07722 870390 or email barbaralowe152@gmail.com.


Howzat! New Walking Cricket Group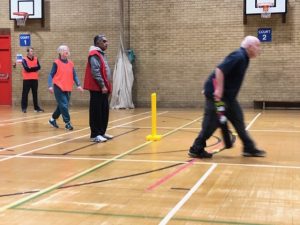 Our new SU3A Walking Cricket Group is now up and running and looking for more members to join us. Open to men and women- no previous cricket experience required. All equipment provided. We meet every Thursday 9.00am-11.00am at Springs Leisure Centre, East Bank Rd S2. It's great fun and good for fitness too! More details on our Walking Cricket page. Contact: Chris Jones 07753 829771


Cycling – Mondays

Cycling – Mondays is a large group of cyclists with a wide range of abilities when it comes to two wheels. Pedalling on quiet lanes and trails around Sheffield, sadly we can't avoid the hills so tend to embrace them for the views they give us. As well as the views from hill top and ridges, we pass through and stop at places of interest, and not just cafés (though the Oil Can Café in Hepworth was a 1950s experience), Pleasley Pit coal mining heritage, Churches, countryside and Stately Home Estates. Popular rides attract up to 20 riders from the 50 or so members of our group – they range from 20 miles to 40 miles and can be 'flattish' or hilly.
We are welcoming and friendly and have vacancies, if you have a Road, Mountain, Hybrid or eBike contact us for information or to join us. See picture above of members on a recent ride to the Oil Can Café.
Alan Bailey alanbailey56@btinternet.com


English – Our Ever Changing Language
In recent times there has been much talk about language – how politicians use language to manipulate, how language can be divisive and promote civil unrest. Claims have been made that the English Language is being destroyed by the Internet, tweets, texts, young people… that American English is taking over the world.
In our group we discuss such issues as – how we acquire language, how English has changed over the centuries, why English spelling is so weird, the language of Chaucer and Shakespeare, Language and Social Class, Accent and Dialect and much more.
The group has been running for 5 years now and we will be re-launching in January with a range of new topics. This is not a taught course but a discussion based interactive group. Meetings are held in S8 on the morning of the first Tuesday of each month. If interested please contact:
Maggie Lyons lyonsmaid@hotmail.com or text 07546 585703


A Capella
The A Cappella Singing Group would welcome another tenor to join them. Requirements are an ability to read music to a moderate standard, some relevant choir experience, to have a voice that blends and to be confident in holding your own part. We meet on a Tuesday afternoon approximately twice a month in members' homes but sometimes a bit more often. A level of commitment is needed to attend
practices and members must be prepared to take part in any function/concert we are performing in.
We do not have an audition as such but reserve the right for anyone joining us to have a probationary period. We have no vacancies for other parts at the moment but anyone interested in being on the waiting list please contact me.
Stephanie Dixon stephdixon247@gmail.com Tel: (0114) 247 0119
Coordinator: A Cappella


Fitness Tailor Made For You – a member's experience
'I saw your article in Links 192 and thought I would just drop you a line to say what a success it has been for me. We were just generally discussing progress at one of the sessions and I realised just how much I have improved. You may remember that I am recovering from heart surgery and live just opposite from the Fitness Studio where the U3A sessions are held. At this time last year I was lucky to be able to walk from the flat to the top of the small hill without having to pause for breath, and I certainly couldn't carry the shopping up three flights of stairs without stopping. Now I regularly walk into the city centre and
back and carry three bags of shopping up the stairs with no problem. I'm now walking longer distances out and about with my camera. I'm more or less back to my normal walking speed, i.e. overtaking joggers. So, all in all, it has been a great success for me especially as previously I would not have dreamt of going to a gym.
The sessions are lots of fun and the trainers (all excellent) change them round each time so that it isn't always the same circuit. So if anyone is hesitating about joining feel free to pass on my little success story to them. Thanks for organising the sessions.
Warmest regards,
Harvey Charlesworth
For further information about our various classes please consult the Group pages in Links or on the website, or contact:
Ann Evans tattyheadx2@gmail.com (0114) 348 6607


Myths and Legends of the Ancient Gods
Ever wondered about the Ancient Gods? Are you interested in learning more? Our group is open for new members. We meet up once a month either on a Monday or Friday. At the end of each meeting we agree what topic we wish to consider next, e.g. death, wisdom, war etc. We then go away and investigate the topic (either individually or in pairs) in the context of the different ancient civilisations we are interested in. These currently include Greek, Roman, Egyptian and Norse. Our findings are then discussed the following month in a very relaxed manner
over non alcoholic drinks and biscuits, highlighting the similarities, if any between the different civilisations.



We also look to visit relevant exhibitions and are currently investigating the "Gateway to Eternity: Death and the Afterlife in Ancient Egypt" exhibition at Wakefield Museum. If you are interested in joining the group please contact:
Samina Aslam sammas1747@gmail.com (0114) 235 1489


Blues Ensemble
The Blues Ensemble meets fortnightly on a Thursday at 2.00 pm at the Ale House, off Archer Rd. We are not purists and play a mixture of country, Chicago, Dixie and anything else we can 'bluesify'. We have a mix of instruments (concert, Eb, and Bb pitches) but there's always room for more. We would particularly welcome 5 string banjo, keyboard and, if anybody out there plays, tuba? You don't have to be a great player just as long as you can play straightforward chords or melody
(depending on your instrument). Any enquiry can be made to me at:
Clive Langman clive_langman@hotmail.com


RECORDER FOR BEGINNERS – RECORDERS 2
Recorder for Beginners has graduated!
As the members can no longer truthfully be described as beginners, we're moving on a little. If you have any previous experience of playing (whenever it was!), and know which way up to put the music, do come and join us – it's highly enjoyable playing with a group. If you are interested, but are a complete novice, do get in touch anyway.
Contact: Hilary Dowson – 0114 221 4417 – hilary@hilarydowson.co.uk