SU3A and Group News
Looking for a Venue for your Group?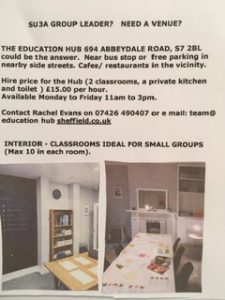 New Group – Piano duets Group
This group could offer friendly pianists a chance to meet with and play with other pianists. All skill levels welcome. Small groups will meet at members homes bringing their own choice of music which could be duets or solo pieces. The idea would be to practise at home then play together. Meetings are fortnightly on Wednesday mornings.
Anyone interested please ring Christine on 01142360481



The Gardening at Whirlowbrook group will need a new leader from March 2020.  This is a very rewarding role, as it involves the ongoing maintenance of SU3A's beautiful Commemorative Garden.  Members of the group meet on the second and fourth Wednesdays of the month except in bad weather.  We are helped by staff from the Council's Parks Department and the Ranger Service.  Only an average knowledge of gardening is required.  The role can be shared with others and you would receive a lot of support from 20 group members.   It is not essential to be present at every meeting.
Enquiries to Shelagh Woolliscroft on 255 8948 or shelagh@woolliscroft.com

Sheffield U3A Deaf Awareness group – Help needed
We have changed the name from 'Deaf' to 'Deaf Awareness' partly because the completely deaf need a signer. We are a friendly, supportive group that meets monthly and exchanges experiences and information with each other. We use the Tourtalk system to aid communication. We still have a few places for new members.
We wish to set up a lip-reading support group but need a person who has previously taught lip reading to help us get started. If any U3A member or potential member has this skill we would much appreciate their help. Christopher Carter can be contacted (text preferred) on 07855 908007 or e-mail U3AChrisCarter@gmail.com