SU3A and Group News
Looking for a Venue for your Group?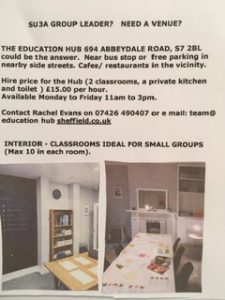 U3A Orienteering 2020
Orienteering is a challenging outdoor adventure sport. The aim is to navigate between control points marked on an orienteering map and decide the best route to complete the course in the quickest time.
It does not matter how young, old or fit you are, as you can run, walk or jog the course and progress at your own pace. It is ideal for people of all ages, shapes and sizes and for older adults wanting to shape up, add some excitement to their walking or jogging and meet new friends.

The aim of this five week access course is to introduce you to the basics of the theory and practice of the sport of orienteering including map reading and navigation so that you can take part in organised orienteering events which take place regularly in Sheffield and South Yorkshire.

Over the six weeks we will meet in different local parks and woods in Sheffield, starting on Thursday April 23rd in Endcliffe Park where we will meet outside the café at 1.30pm. The session will last two hours. Further sessions will take place on April 30th and May 7th, 14th and 21st. Other venues will include Graves Park, Millhouses Park, Forge Dam, Weston Park, Norfolk Park and Ecclesall Wood. Come dressed for walking or jogging through the Park.

There is a cost of £10 for the six week course which covers the cost of producing and printing the orienteering maps and use of Orienteering equipment hired from the local club, South Yorkshire Orienteers.

Please contact me before 20th April using the contact information below if you would like to attend.
If this short course is successful it will be repeated later in the year.

Colin Best, 
Email: colinallanb@yahoo.co.uk (Tel. 07800540596)

New Group – Piano duets Group
This group could offer friendly pianists a chance to meet with and play with other pianists. All skill levels welcome. Small groups will meet at members homes bringing their own choice of music which could be duets or solo pieces. The idea would be to practise at home then play together. Meetings are fortnightly on Wednesday mornings.
Anyone interested please ring Christine on 01142360481



The Gardening at Whirlowbrook group will need a new leader from March 2020.  This is a very rewarding role, as it involves the ongoing maintenance of SU3A's beautiful Commemorative Garden.  Members of the group meet on the second and fourth Wednesdays of the month except in bad weather.  We are helped by staff from the Council's Parks Department and the Ranger Service.  Only an average knowledge of gardening is required.  The role can be shared with others and you would receive a lot of support from 20 group members.   It is not essential to be present at every meeting.
Enquiries to Shelagh Woolliscroft on 255 8948 or shelagh@woolliscroft.com


Vintage Voices, the SU3A performance choir, is looking for a Deputy Conductor with a view to their present conductor Robert Spooner stepping down in the next year or so. Robert who is now 80, has enjoyed the privilege of introducing the choir to a wide variety of music, including some of his own arrangements and compositions, while encouraging all abilities to relish singing together.
The choir was set up in March 2013 and gave its first entertainment to an OAP Lunch Club in December that year. Since then we have amassed an eclectic repertoire, ranging from Mediaeval chansons and motets to Pop songs and excerpts from Musicals and  Oratorios.We have performed at some 50 events, mostly in Old Peoples Homes and Lunch Clubs. Recently we spread our wings with a Cathedral recital and a concert in Baslow Church.
We meet on Monday mornings at Victoria Hall Methodist Church, enabling our members to use their travel passes from all over Sheffield. We do not have auditions and welcome newcomers.
Sheffield U3A Deaf Awareness group – Help needed
We have changed the name from 'Deaf' to 'Deaf Awareness' partly because the completely deaf need a signer. We are a friendly, supportive group that meets monthly and exchanges experiences and information with each other. We use the Tourtalk system to aid communication. We still have a few places for new members.
We wish to set up a lip-reading support group but need a person who has previously taught lip reading to help us get started. If any U3A member or potential member has this skill we would much appreciate their help. Christopher Carter can be contacted (text preferred) on 07855 908007 or e-mail U3AChrisCarter@gmail.com