Walking Group L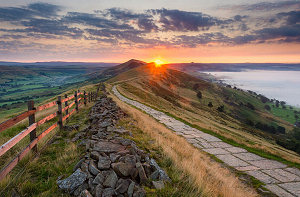 Coordinator: Barbara Cassidy. E-mail: barbara@daisybee.co.uk
Meet at 9.50am booted up and ready to go.
In the event of inclement weather such as ice, snow or gale force winds please ring the leader to confirm unless otherwise informed. We will walk in the rain and fog and sunshine.
PLEASE VOLUNTEER TO LEAD A WALK or give in suggestions of walks for future dates. Walk leaders do not have to find a lunch venue as arrangements for lunch are made during the walk.
Programme for January-March 2022
Sheffield U3A Walking Group L.
Walk list for January , February and March 2022
Co-ordinator Barbara Cassidy.   barbara@daisybee.co.uk        www.daisybee.co.uk
6th January

MEET at the pull in below Owler Bar roundabout.

WALK  up to Flask Edge across the moor.

LEADER, Jean or John Williams.

13th January

MEET at Baslow car park, Parking available at the Wheatsheaf.

WALK Chatsworth Park.

LEADER. Liz Hickman and Alan to lead.

20th January.

MEET at Whirlowbrook Park Gates off Hathersage Road.

WALK. Limb Valley to Ringinlow and back via Whirlow                     Farm

LEADER…Arthur.

27th January

MEET at Longshaw Car Park.

WALK. Longshaw and Burbage Brook.

LEADER.. No volunteer as yet but you are free to change this meeting place.

3rd February

MEET at The junction of Greenhill avenue and Bocking Lane.

Walk through Chantry Wood up towards Graves park and the Rose Garden.

LEADERS    Liz Chapman and Ann Cotton

10th February.

MEET at Whitely Lane near the Chapel.

WALK up to the Alpaka farm and back.

LEADER  Jean Tricklebank.

17th February

MEET at the car park in Old Brampton village.

WALK to Linacre Reservoir and back.

LEADER…Liz Chapman and Ann Cotton.

24th February.

MEET

WALK

LEADER

 3rd March
MEET Bakewell Station.

WALK the Monsal Trail and back by the river.

LEADERS, Brenda and Linda.

10th March
MEET at the Hollingwood Hub in Chesterfield ( details later)

WALK the Chesterfield Canal.

LEADERS, Ann Cotton and Liz Chapman.

17th MARCH

2022

24th MARCH
MEET at Sands car park in Low Bradfield.

WALK around the reservoir, good paths.

LEADERS….Brenda and Linda will lead.

31st MARCH
MEET at Rails Road car park.

WALK  Rivelin Valley now that the tree tidy up is completed.

LEADER…….Pauline will lead.