Status:
Active, open to new members
Group Coordinator:

Ann Granville

Tel: 2309754

Group email:
Kurling group
When:
Weekly mornings
Monday and Tuesday
Venue:
Hillsborough Leisure Centre
Cost:
£10 per annum plus £2 per session
Have you ever wanted to try Ice Curling? Well here you can as long as you can manage without the ice.
The group has vacancies for any one who wants to have a go - come along one morning and try it out.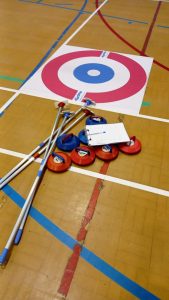 In January 2023 SU3A setup their very first Kurling Group. It has been a steep learning curve for all of us, but September has seen the start of the new season in a new venue.
It costs £2.00 per session, with an annual membership fee to cover the cost of the equipment. Despite the name, no ice is involved. Using 'pushers' or the handles on the stones themselves they are propelled down a course to score points (or not!) on a target. It is a game that can be cut-throat or gentle relaxation and can change even as it is played. It is ideal for those with limited mobility, can be played from a wheelchair, by those visually impaired with help from a caller, and it does not require physical strength, so no lifting or bending.
We meet on Monday and Tuesday mornings, from 10.30 until 12.30 at Hillsborough Leisure centre on Penistone Road. Opposite Hillsborough Park it is has plentiful free car parking, several bus routes pass with the stop right outside.
There are other Kurling groups that we might challenge once we feel reasonably comfortable, but it is usually played in a friendly, encouraging spirit for all and any abilities.