The Sixties Project
Talking about our generation
Update February 2019
This is a Shared Learning Project led by Denise West and Shelagh Woolliscroft.  It started in January 2018 and is expected to run until the end of 2020.  Over 100 members have had some involvement to date.   Anyone can join in by registering with Shelagh – email her at Shelagh(AT)woolliscroft.com.   (Note, all personal email addresses on the website are protected by replacing "@" with "(AT)". Type as usual to send an email.)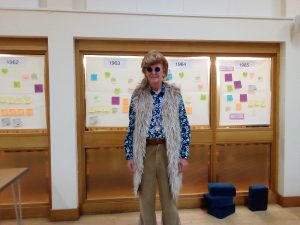 The 'Sixties Night' event held on 13 October was enjoyed by 90 members.  The highlights included a wonderful fashion show (all original garments), the music (some of us were dancing in the aisles) and the fantastic display of photographs, stories and other memorabilia.  Samina Aslam took videos and photos, some of which accompany Denise's report for December Links and Third Age  Matters.
Our links with the University of Sheffield are strong and some of us met up with history students last semester to help them with their specialist topics. In return for this and other help with research we enjoy some excellent lectures!
Topics:  Politics and  Fashion are on the website – just click on the link opposite.  A Fifties Childhood is also complete and Family Life nearly so.   Major gaps include Education beyond school (i.e. teacher training, special education, university and polytechnic, vocational education), sport and recreation, health, class discrimination, working life.
The unfinished topics will benefit from having more reminiscences. So we are arranging another open session on Thursday 28 February, at the Showroom, starting at 10.00.  We want you to come along and tell us your anecdotes, complete more questionnaires and help us to fill the gaps.
20 members attended the recent seminar on National Service in January.  SU3A member Mike Cox talked about his time in Special Ops.  17 members completed questionnaires about their experiences and the material from these will be used to produce an overall account.  Meanwhile Derek Cave has produced his own story- you can read it by clicking on the link opposite.
People to contact if you want to help with specific topics are:
Politics at home and abroad – Sue Beardon  sue.beardon(AT)gmail.com
Social attitudes– Amanda Davey, adaveysheffield(AT)yahoo.com
Food and Drink – Shelagh Woolliscroft – shelagh(AT)woolliscroft.com
Music – Brian Clark – blclark9(AT)hotmail.com
Technology and transport – John Dixon,  johndixon4491(AT)gmail.com

Memoir Writing Workshop.  We are also pleased to confirm that John Turner has offered to run a four-part memoir-writing workshop on the mornings of the following dates: 20 May, 3 June, 17 June, 24 June.  John is a retired senior lecturer in creative writing and performing arts at SHU.  He is a published poet, playwright and short story writer and has performed regularly with Ian McMillan and other poets, both in the UK and in Europe.  The cost will be £10 for the four sessions.   John will be at the open session on 28 February to explain how he intends to run the workshops and we will be starting to take bookings for the 16 places.  First come, first served!