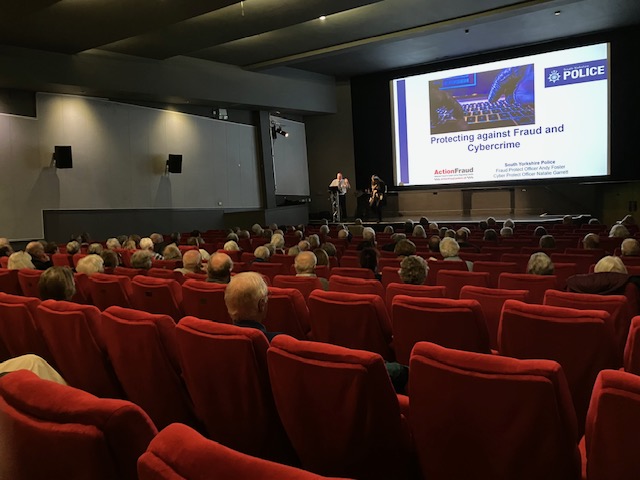 The lectures are usually, but not always, held on the third Friday of the month (no lecture in August) at 11.00 am in Cinema 4 at the Showroom, Paternoster Row, Sheffield. The Showroom café is open from 9.00 am for coffee, snacks and lunches. Lectures will usually finish by 12.30 pm.
 
The lectures are free to all members and usually no booking is required. Greeters wearing u3a lanyards are at the door to welcome members and you may be asked for your Su3a membership number.
 
A voucher, obtainable from the box office, enables half price parking at Q-Park (the Cheesegrater car park) on Charles St off Arundel Gate.
 
The lectures are organised by Deborah Beetham and Mo Cave. Details of upcoming lectures are shown in both Links magazine and the enewsletter. We will also send out a reminder to all members a few days before the event. You can contact the organisers at chair@Su3a.org.ukEnter text here
TourTalk system
The Showroom theatre does not have a loop system for hearing aids. However, Sheffield U3A have purchased a TourTalk system that can be used by both people who have hearing aids and others with slight hearing loss. We have a transmitter that is connected to the sound system and individual receivers (14) that can be used with (a) your own headphones, (b) one of our earpieces in one ear only, or (c) with a neck loop which works with a hearing aid 'T' position.
Please book a device in advance by sending a request to U3AChrisCarter@gmail.com on a first-come-first-served basis.
NB If the receiver stops working, please check that the channel number on it is 40, that you have your hearing aid set to the 'T' position (if applicable) and that you have adjusted the volume control on the left. To switch on and off hold the bottom right button down for a few seconds. Do not touch the other buttons.

Dates and topics for 2023/24
| | | |
| --- | --- | --- |
| 17 November 2023 | The World of Fraud: Cyber Crime and Scams | Andy Foster of South Yorkshire Police will speak to us on this increasingly prevalent issue. |
| 15 December 2023 | Inn & Out at the Top: Neil Hanson | Neil is the author of 70 books and ghostwriter to sports stars and celebrities and will talk about his time running Britains highest inn back in the 70's and 80's. |
| 19 January 2024 | Estate Planning: John Mumford | A guide to arranging your financial affairs without leaving problems for your next of kin. A complementary talk to the Tying up Loose Ends course which ran in the Summer of 2023. |
| 16 February 2024 | Christine Goddard - The History of the Sheffield Cats Centre: Working to help cats since 1897. | Sheffield Cats Shelter is the oldest animal welfare charity in Sheffield. Founded in the same year that Sheffield became a city, it's story aligns with that of the city. |
| 15 March 2024 | Dr Alessandro di Nuovo. How Can Robotic Platforms Help Develop new Artificial Intelligence (AI) services to Benefit Society? | What AI can do for all us. |
| 19 April 2024 | Ken Dash. The Story of Meersbrook Hall. | Find out more about this grade II listed Georgian House located in the north west corner of Meersbrook Park. |
Previous Lectures
There are a number of previous lecture reviews available here.
On-Line Lectures
Between March 2020 and March 2022 Su3a presented (initially) weekly lectures online. Most of these lectures were recorded and are available for members by contacting web@su3a.org.uk